Background
An integrated petrochemical plant based in the Middle East used to be a simple port facility that exported crude oil. Over time, the location of the facility became a key place for oil refinement and related petrochemical activities.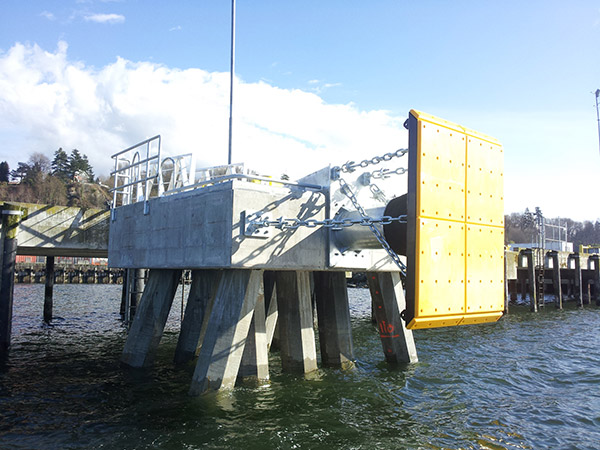 Challenge
The facility was seeking to extend the length of its Terminal 2 in order to improve the mooring arrangements. This included repairing and installing upgrades to the existing anchorage while retaining the quay wall at Terminal 1 and 2. In addition, a smart solution was required that could minimize operational disruption and downtime.
Solution
As the anchorage for the vertical face of the quay wall was limited, Trelleborg proposed installing an anchorage system at the top of the quay wall. This would enable berthing activities to carry on as normal at the front face of the quay while the jetty refurbishment took place.
This project features non-conventional marine fenders which were specifically designed to suit the unique anchorage system of the structure. Trelleborg's unrivaled engineering expertise, which includes extensive application experience in a variety of port environments, combined with the use of high-quality raw materials was crucial in meeting the demands of this unique project.
Trelleborg also designed a "fender bracket system" to transfer all the loads from the fenders to the top anchors and used Finite Element Analysis to simulate the loading conditions. The solution featured a combination of Super Cone Fenders (SCN1300), Super High Cap Foam Fenders, 120T Tee Head Bollards, Quick Release Hooks (QRH) and Meteorological Monitoring Systems.
Outcome
Over several years, Trelleborg worked closely with the facility – from conceptualization to completion – in order to deliver the ideal solution.
The decision to install an innovative anchoring solution at the top of the quay wall, which was designed to meet the project's bespoke requirements, reduced the equipment that was required. This streamlined the process and enabled the port to continue functioning throughout the upgrade, resulting in significant cost savings.
The ability to offer customized solutions was key to the successful outcome of this infrastructure project. Trelleborg customized the base of the QRH to a rectangular shape, as opposed to the standard circular base, and also tailored the height of the bollard to suit the project requirements.
This flexible approach enabled Trelleborg to provide a quality solution that satisfied the client's needs, without significant downtime and operational disruption.
Conclusion
Through investment in R&D, market-leading testing and working with the port industry to uphold standards, Trelleborg continues to innovate and challenge fender design to deliver the performance required for safe and effective port operations.
With a broad suite of fender systems and a global in-house team of manufacturing experts, we take a whole system approach to fender performance and have the expertise to understand complex challenges, in order to develop high-quality, tested solutions that deliver optimal performance, today and tomorrow.